Description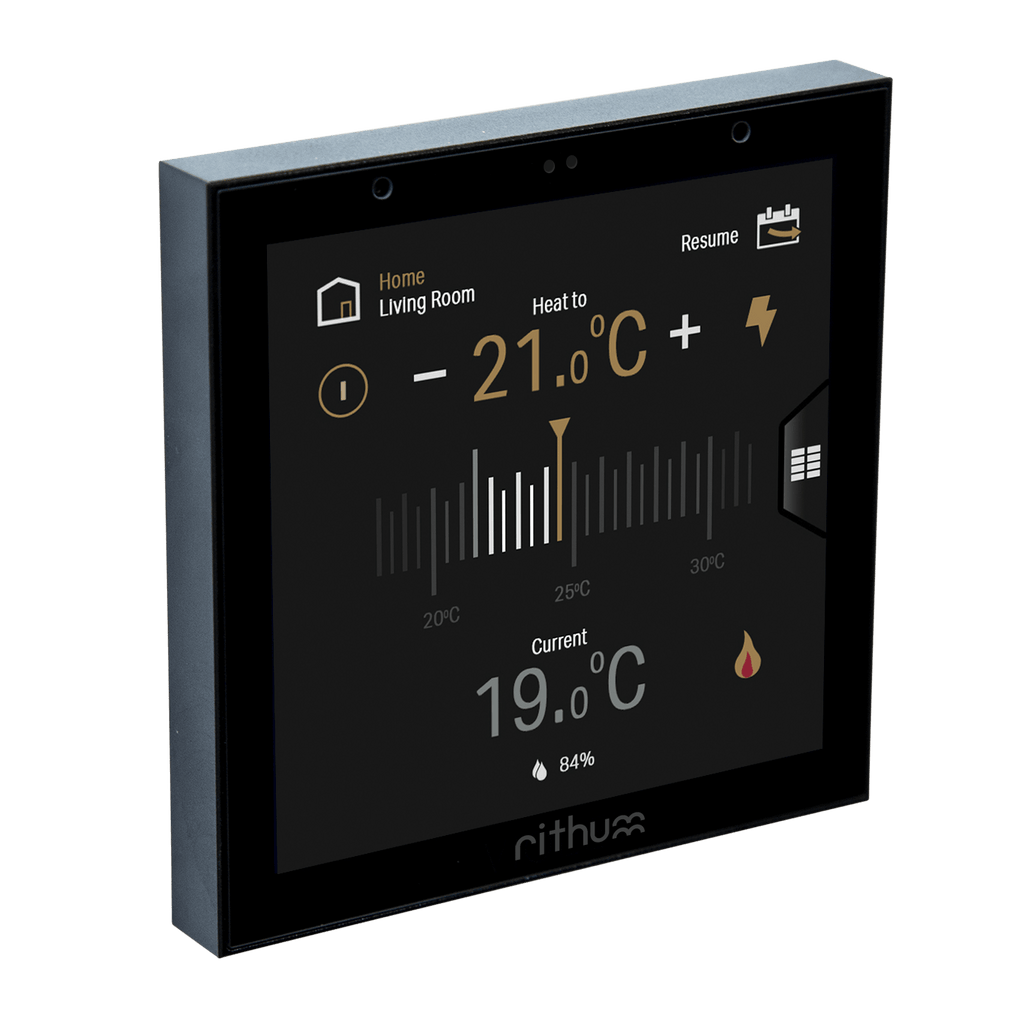 The all-in-one smart home system
Using its built-in temperature sensor, the Rithum Switch can operate as a thermostat and offers a full range of climate control functions. We call this Rithum Stat*.
Rithum Stat also includes a Scheduling screen allowing users to set a seven day schedule with up to eight time points in each day.
Also included is audio control with Sonos smart speaker connectivity and smart lighting scenes with the Philips Hue integration. Full smart home control from one device!
*Requires a relay connected via a lighting integration
The Rithum Switch offers control of up to 8 Scenes with Philips Hue connectivity included as standard. Setup is easy, simply connect the switch via WiFi to the Hue Bridge and your Scenes will automatically display on your Rithum Switch.
Alternatively, please view our plugin integrations for connectivity with lighting systems such as Homey, Rako or Lutron.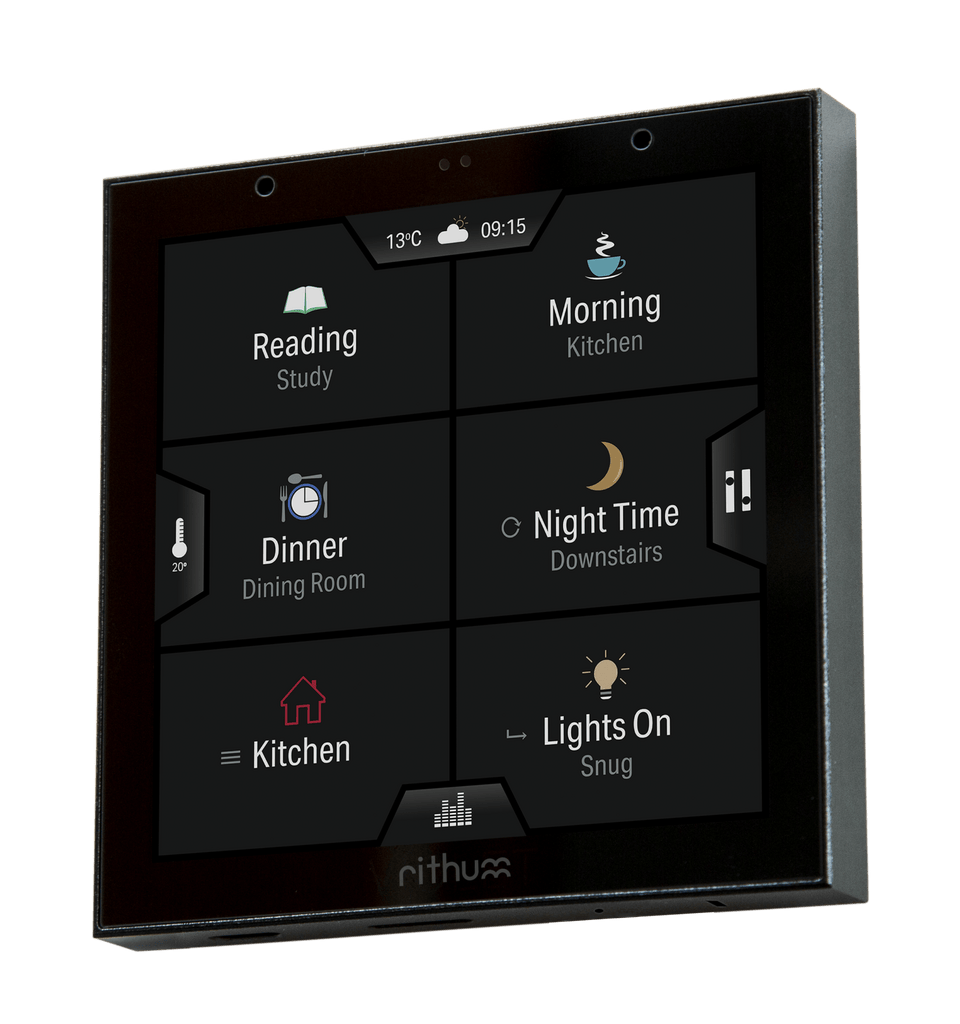 Rithum Switch has 8 main Scene buttons, but being able to collate sub-scenes in a group provides users with much wider control options. For example, a user could group 3 or 4 – or more – kitchen Scenes to one of the main 8 buttons. 
Macro mode (default):

 Triggers all of the Scenes in the group and can be useful to turn all lighting and audio off / on with the press of one button

List mode:

 Once pressed, this will display a pop-up list showing all Scenes within the group, which can be controlled independently. This is useful for grouping Scenes within a zone, for example, all lighting in the kitchen

Step mode:

 Pressing the Group Scene button will cycle through the grouped Scenes and display them one after the next, activating each one as it is displayed
From within Rithum Switch, users are able to control the lighting levels at Group Level, for example all lights in the Kitchen Group, or at individual device level. Simply use the toggles to switch groups or devices on or off, then use the sliders to adjust the levels as required.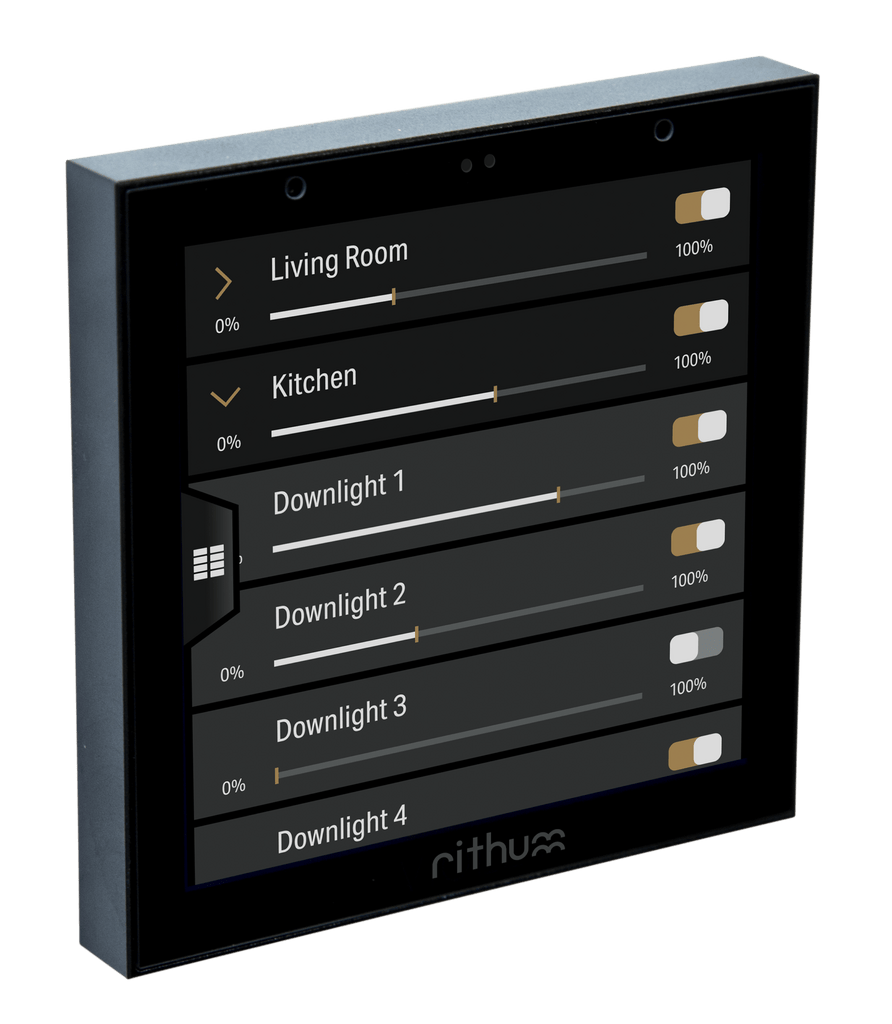 Flexible smart switch accessories
Combining the Rithum Switch with the Table Stand allows the switch to be placed anywhere in a room, on a bedside table, a kitchen work top, or besides the sofa.
If replacing a traditional light switch, using the UK double adapter allows the Rithum Switch to be mounted in a double back box with ease.
| | |
| --- | --- |
| Input rating: | 100 - 240V~AC 50/60Hz / 12-30VDC |
| Wiring: | Parallel (neutral required) |
| Input current max: | 260mA |
| Power consumption standby: | 0.7W |
| Wi-Fi: | 2.4GHz 802.11bgn (Wi-Fi 4) |
| Environment: | For indoor use only |
| Back box: | Single gang EU 68mm Round or UK 71mm Square |
| Back box depth: | 35mm (25mm in some scenarios) |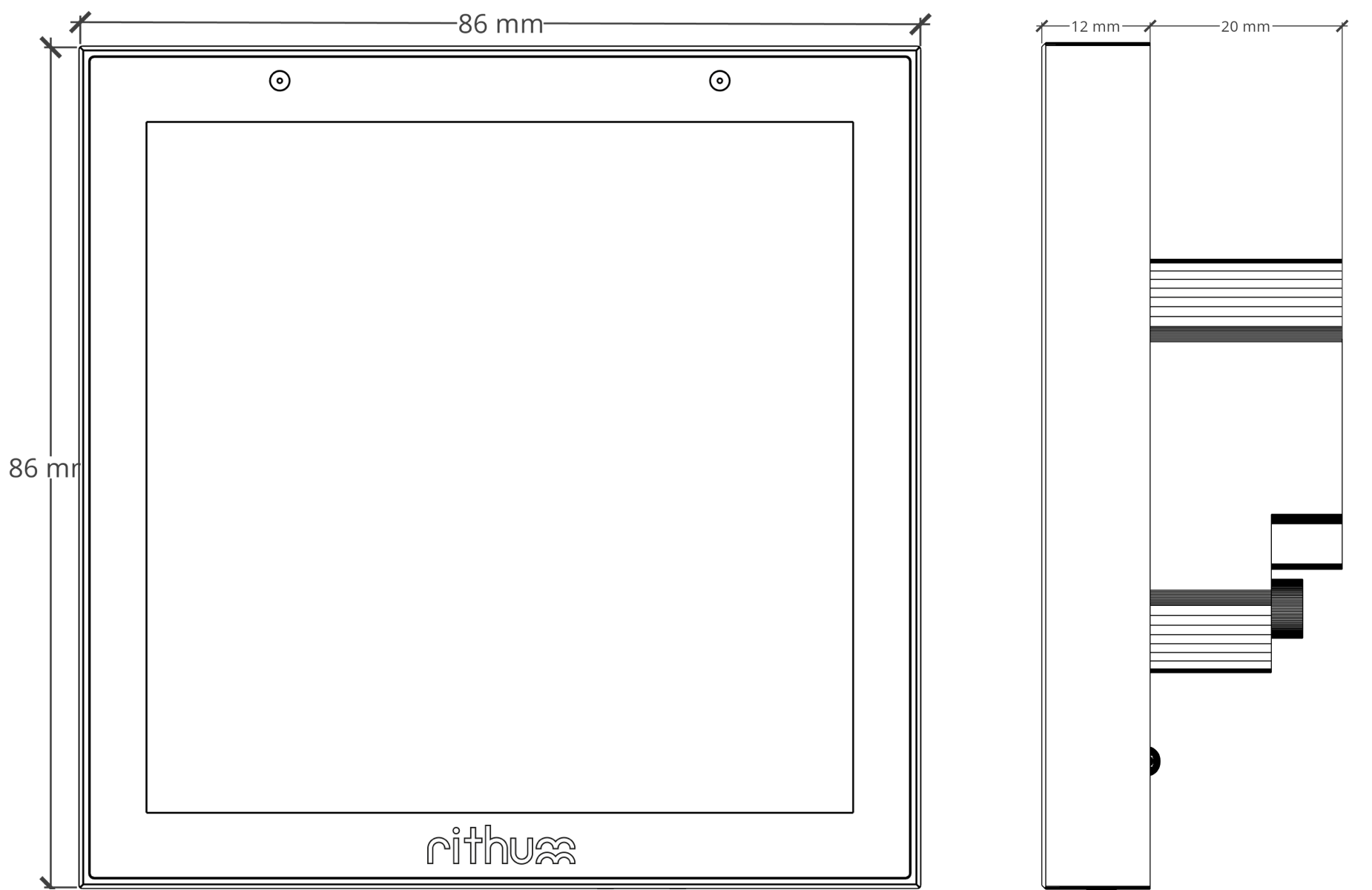 Generic smart switch topology
Rithum Switch communicates with other systems via your local network, either locally or via the cloud, depending on the integration. It is recommended that a robust network and Wi-Fi system is used to ensure stability. For integration specific topologies see the relevant plugin.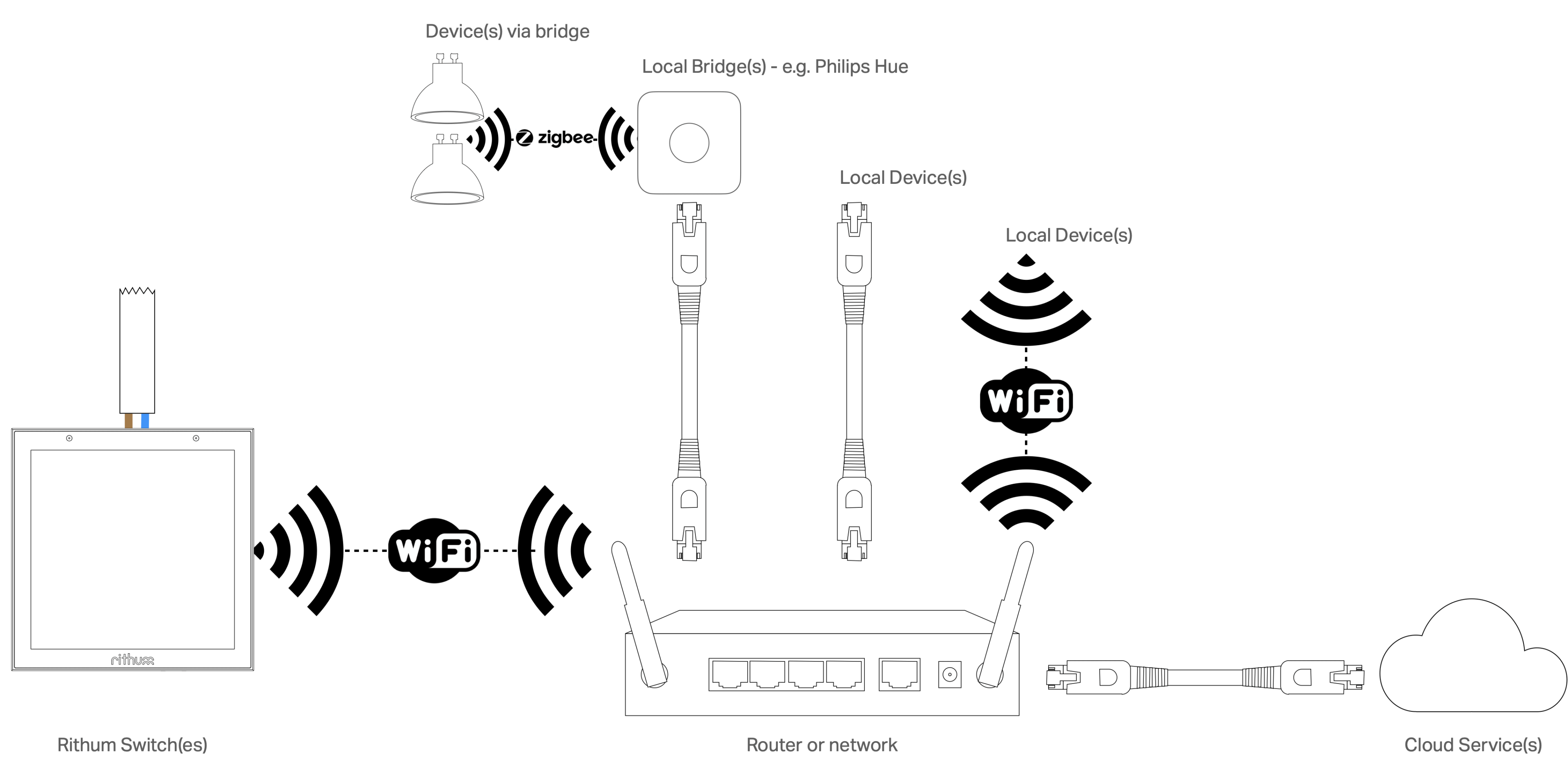 "Not sure how I managed without this switch. Easy install and even easier user interface. It really makes everything with my hue bulbs and music so much quicker and simpler to use (rather than having to get my phone out every time). A must have if you own a good amount of hue bulbs and sonos speakers."
Luke G.
"Smart and simple to use! Had my SmartSwitch Lite for a good few weeks now and loving it. Straight forward to setup and use, no need for complicated wiring or interfacing. Great display showing music and lighting that allows the family easy access to control without the need of a phone or tablet. A smart and simple solution for anyone with Sonos and Philips Hue lighting."
Kyle P.
"Great product, very easy setup, solves a lot of issues with controlling Sonos and lights from my phone. It just makes control faster and easier."
Rich T.