The Rithum Switch smart home
control panel
The award winning smart switch for
an all-in-one smart home
Rithum Switch is a smart home control panel that combines your lighting, audio and climate control into one simple touchscreen smart switch. The whole family can easily get the perfect lighting, sound and temperature setting without a phone, app or training.
Tech Company of the Year • Best Control Panel • Best HVAC Thermostat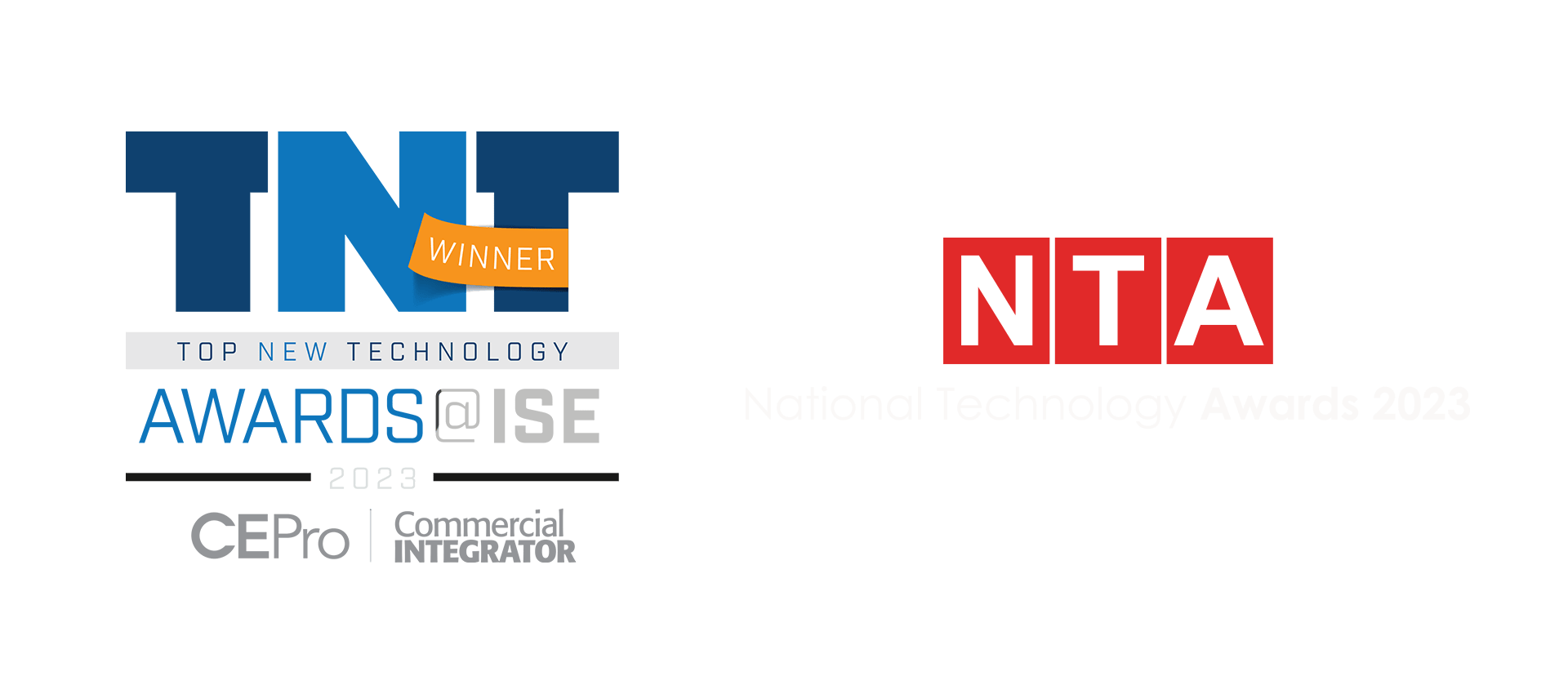 There's a light scene for every mood, no matter how quickly it changes. Rithum Switch is a smart lighting system that provides quick and convenient access to your light scenes. No more phone-fumbling, button-bashing, or dimmer light switch dialing. Just wake the screen and tap a scene.
With the Rithum Switch home automation light switch, you can set different scenes such as 'Reading' for when you want to relax on the sofa with your favourite book; a dimmed scene to create a cosy atmosphere at the end of the day; a bright setting that will help you to focus; and so much more. You don't need to adjust features or change settings anytime you want a specific type of lighting in your home. Rithum Switch is a smart home lighting system that allows you to immediately create the mood you're looking for at the touch of a button. See for yourself!
Smart speaker & music control
Adjust the tunes as simply as the lights. The whole family and visitors can intuitively get the sound system or smart speaker going or easily stop it to take that call or as you're on the way out the door.
Rithum Switch is a brilliant way to control the lighting in your home, but it's not the only benefit you get when you choose this smart wall switch. You can also easily control sound with a few touches, filling the rooms with your favourite music in only a few seconds, as you'd expect from a smart home control panel. Future-proof your home with a smart audio control panel that stops you from having to turn the radio on or fumble with the buttons on your speakers. The Rithum Switch smart audio control system means you always have some rhythm in your day. You can also rest assured that the Rithum Switch home automation control panel is easy to use.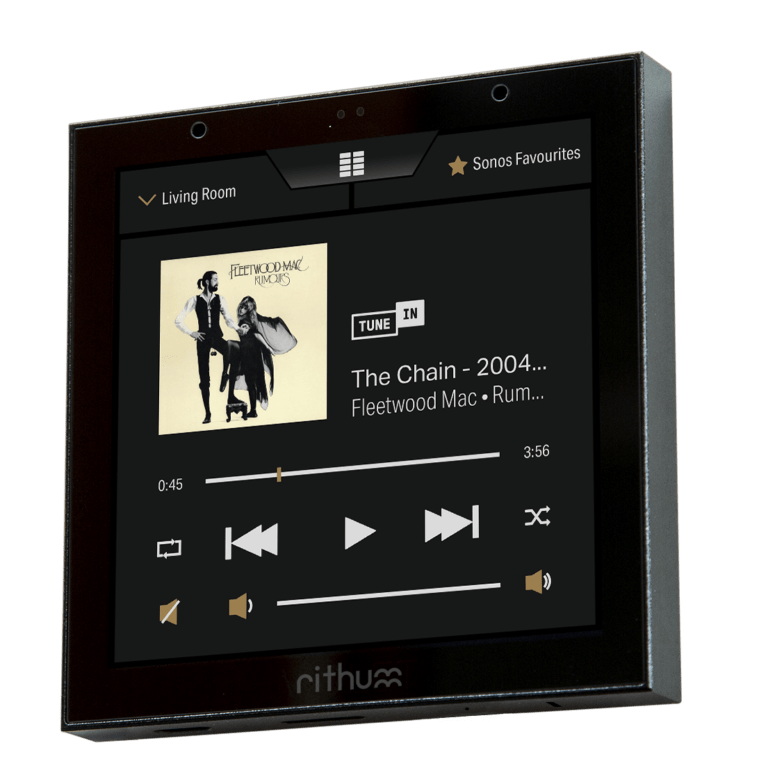 Smart home temperature control with Rithum Stat
The Rithum Switch includes our climate control system Rithum Stat. Using it's built in temperature sensor, the Rithum Switch acts as a thermostat and offers a full suite of climate control functions without the need for additional third party heating integration*. 
You can manually adjust the target temperature, turn the climate system on or off, select individual zones or rooms from other Climate integrations, and resume or pause the schedule.
The dedicated scheduling screen allows you to plan your weekly climate needs with up to 8 time and heating set points per day. With just a few taps you can add or remove time blocks in each day, then copy and paste features allow you to copy one days setting to another.
*Requires relay with a lighting integration
"It works exactly as advertised, and works perfectly. Thumbs up from the rest of the family too for being simple to use."
Shaun O.
"Fantastic product. Works seamlessly with my Philips Hue and Sonos setup. Minor problems fixed within hours of reporting Was sceptical given problems buying in at such an early stage with other similar products but cannot fault Rithum . Would highly recommend"
Chris A.
"Pre ordered the switch. It was sent out promptly when it came into stock. Looks great, simple to install and use. Perfect for my smart home"
Richard D.
Rithum Switch combines your lighting, audio and climate control into one simple control point. The whole family can easily get the right light and sound setting without a phone, an app or even training.
Rithum Switch provides simple control of your smart bulbs and audio systems. As a smart home control panel, it replaces your traditional light switch and then communicates with other smart devices over Wi-Fi, making it a combined smart light system and smart audio system. By utilising your existing wiring to power it, this smart wall switch is a direct replacement for a UK or European light switch.
Rithum Switch requires a neutral, but wait…that's much easier than people think using our ingenious wiring tweak which does not require rewiring.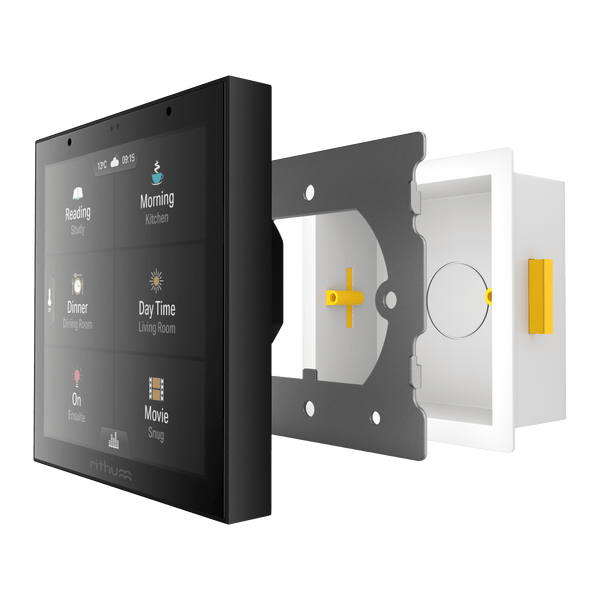 We know that when you enter a room you just want to get the music and lights how you want them as quickly as possible. That's why we have focussed on the actions you need to make those quick changes.
Philips Hue smart lighting and Sonos audio
Out of the box, Rithum Switch works with Philips Hue bulbs for its smart light system control and Sonos audio systems as a smart audio control panel. Others require an easy to install plugin, such as Tado or Homey. Plus, for the tinkerers out there, the generic HTTPviaSD integration allows control of almost anything that uses HTTP requests. 
Remote updates means you always have the latest features. Looking for a domestic lighting control system that will integrate with your lights and audio systems? Look no further. Keep reading for more information on the Rithum smart home switch and to learn more about how your home can benefit from the Rithum state-of-the-art home automation control panel.
Smart switch home automation benefits
There are many benefits to replacing your light switches with a smart light system. Not only are they a key element of the modern smart home, but you can also:
Program your lights to match your daily routine – The touchscreen light switch is placed in the most convenient place so that you can turn the lights on/off at will, trigger different lighting scenes or toggle audio.

Have a wireless lighting control system that matches your contemporary décor – Rithum Switch is modern and sleek, offering the perfect aesthetic to any contemporary home.

Integrate your smart home technology with other devices and apps – Being able to control light and sound with a few quick taps is convenient and time-saving.

Create a more efficient home – If you're looking to create a smart home, then a standard light switch won't do. A smart lighting control panel, on the other hand, comes with many features that will make you feel like you're living in the future with the simplicity of today.

Save energy and money by dimming the lights – Whether you want to cut down the bills at the end of the month or are looking to become eco-friendlier (or both), the Rithum smart wall light switch has got you covered. The dimming control features function as a smart light system and are great to set the atmosphere and to save electricity, so try it today and see the difference for yourself.
Really love the product, but not only me the whole family! Thanks to this screen everyone understands the lighting in the house and the kids can click very easy on their favorite radio station for the Sonos.
Paul H.
"Smart and simple to use! Had my Rithum Lite for a good few weeks now and loving it. Straight forward to setup and use, no need for complicated wiring or interfacing. Great display showing music and lighting that allows the family easy access to control without the need of a phone or tablet. A smart and simple solution for anyone with Sonos and Philips Hue lighting."
Kyle P.
"Great product, very easy setup, solves a lot of issues with controlling Sonos and lights from my phone. It just makes control faster and easier."
Rich T.
Premium Quality Without The Price Tag
Traditional smart home systems can cost £10,000's or more per room, not to mention the complexities and specialist programming involved.
On-wall touch panels from the big smart home manufacturers can cost upwards of £1,000 a pop.
A premium quality smart home control panel doesn't need to carry that price tag.