In the world of smart homes, smart switches have become increasingly popular due to their ability to control your home's lighting and electronics remotely. But how does a smart switch work exactly? A smart switch is an electrical switch that is equipped with wireless connectivity, allowing you to control it via a smartphone app, voice commands, or even a smart home assistant. In this article, we'll explore the inner workings of a smart switch and how it integrates with your smart home system.
What Is the Rithum Smart Switch?
The Rithum smart switch is a touchscreen light switch, or smart home control panel, that replaces a UK or European light switch and allows you to control lighting and sound in your home. In that sense it is both a smart light system and a smart audio system in one. You can still easily turn the lights on and off, but the smart option gives you more control over the lights and the music you want to play.
Rithums's connected light switch helps you revolutionise the way you live by creating a modern, futuristic, high-tech home. Get in touch if you'd like to learn more about installing one in your home.
How Do Smart Switches Work?
In general, and in the case of Rithum's smart light system in particular, smart switches work by replacing a switch and providing control of third-party systems. In order to use all the features of Rithums Smart Switch, you must add a lighting and audio system that is compatible with it. 
Our Rithum Smart Switch measures 86 x 86 millimetres and requires a neutral power source – this means that it has to be wired in parallel with your bulbs. However, the switch doesn't need its own app, so that's one less thing to worry about!
You get access to a host of features, such as light scenes, which allows you to quickly set a predetermined light setting by waking and tapping the screen. For instance, you can easily set a nightlight or dim the lights if you're looking to create a cosier atmosphere.
In essence, the SmartSwitch Lite uses Wi-Fi to integrate with your lights and sound, so you'll need to have a strong signal in order to make the most of your smart light switch. You can also upgrade your ISP supplied equipment for this.
At the moment, the switch integrates with Philips Hue bulbs via a Hue Bridge and with Sonos audio players.
Philips Hue bulbs are different than non-smart lights in the sense that they can appear off but still be powered, which is the case with Violet's switch. With this feature, they can be turned on and off as needed. To fully use your SmartSwitch Lite, you also need to permanently energise the lighting circuits by making a few changes to the wiring – this can be easily done by an electrician.
The light integration works via a bridge and up to 50 bulbs can be supported on the same bridge, so you'll likely only ever need one. The bridge connects to your router or network through an Ethernet cable via a simple process, as you don't have to worry about overcomplicated setups and features.
Benefits of Choosing Smart Switch
If you're wondering what the benefits of a smart touchscreen light switch are, and whether it's worth it to get one to replace your normal switch, consider the following:
They're an important part of the modern home. When looking to create a futuristic home, smart light switches are one of those features that stand out.
You can control the lighting and put on some music simply by tapping away at the screen.
You can place the smart light switch in the most convenient place for you, ensuring you can turn the lights and audio on and off whenever you want.
With Violet's smart light switch, you can easily control the colour temperature of your lights too, helping you to regulate your circadian rhythm.
The sleek, wireless set up matches your modern home, since you don't have to worry about unsightly wiring.
Our smart wall switch allows you to create a more efficient home, since it lets you control the lights and the sounds you play with a simple touch or tap.
With features such as 'Read', 'Nightlight' and 'Dimmed', there's no denying that Violet's smart light switch will help you to save electricity; great for the wallet and the planet.
You can control your smart bulbs at any time, which isn't the case with a normal switch (since you can't turn the lights on if the switch if off).
You're able to harness comfort, convenience and luxury all in one!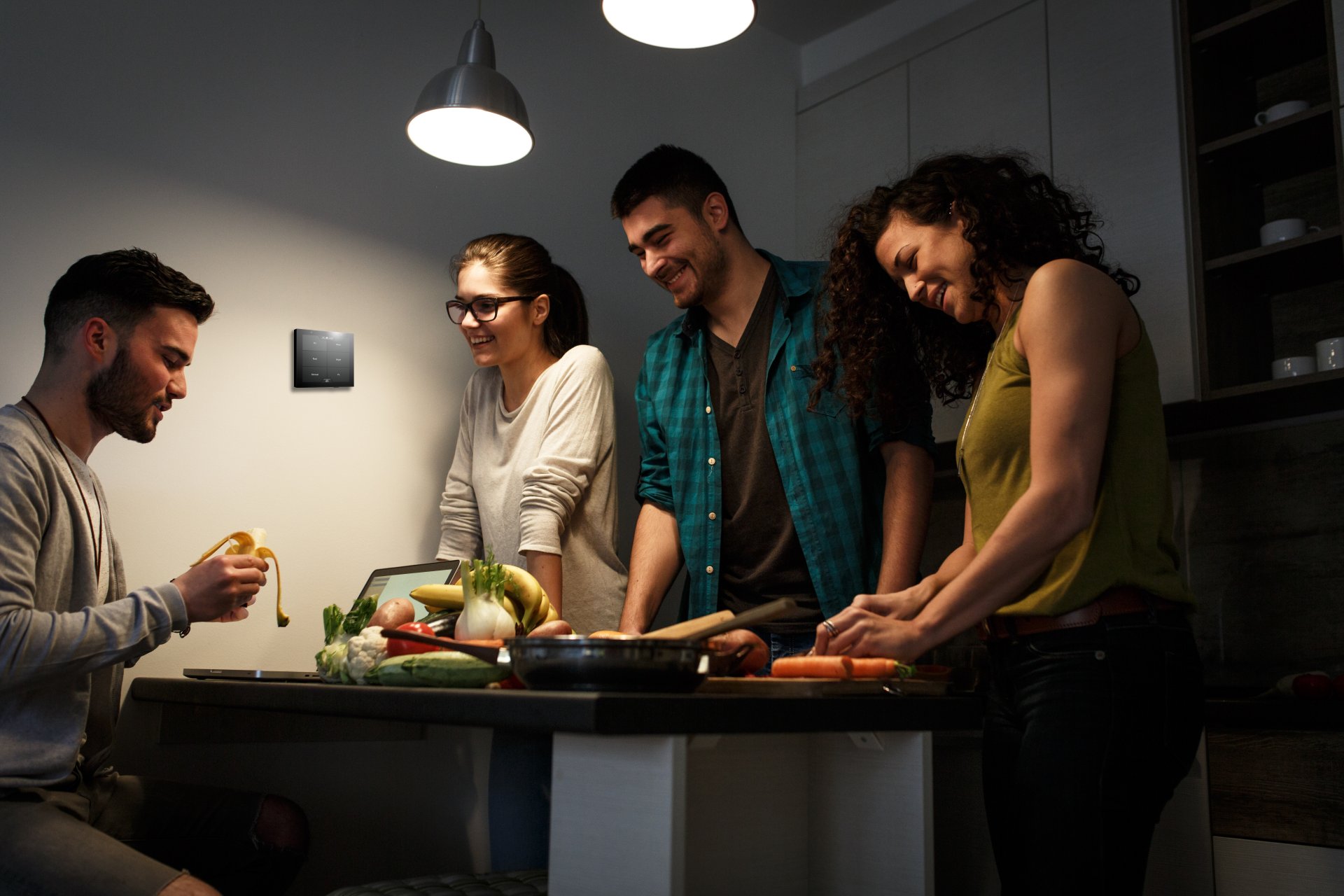 Install and Integrate Your Smart Switch for a Seamless Smart Home Experience
In conclusion, understanding how a smart switch works is just the first step in making the most of this smart home device. To fully benefit from its convenience, energy efficiency, and increased home security, it is important to also know how to install a smart switch properly. With this guide, you should now have the knowledge and confidence to both install and integrate your smart switch seamlessly into your smart home system.
Do you want to learn more about Rithum's connected light switch and all the benefits it offers the modern homeowner? Talk to us to make an enquiry and we'll be happy to discuss Violet's panel today.
You can also sign up for Violet's monthly newsletter to stay up to date with the latest news about the Smart Switch, including future integrations.