This year has been a memorable year. Without doubt it's been a roller coaster ride, but importantly we've moved in the right direction; forward!
The biggest and most exciting change, is the move away from VIOLET to our new brand name Rithum (pronounced rhythm).
Whilst for big tech companies using human names for products is now commonplace, we felt VIOLET didn't communicate what we do or stand for. Rithum is a derivative of Rhythm and Human, to suggest Human Rhythm.
Life has a rhythm, as does each of our days and every moment that makes them up, in the same way that the rhythm of our breathing and heartbeat constitutes our body's rhythm. The rhythm of every moment is intrinsically linked to the rhythm of our surroundings, both environmental and human alike. Rithum is the interlacing of environmental rhythms with human rhythms and how they affect each other from one moment to the next.
By giving users control of their environments, such as lighting, audio and climate, Rithum allows for the seamless user experience that delivers the perfect setting for any occasion, from one convenient location. Rithum is the glue that bonds environment rhythms with human rhythms. One device to control all smart home systems.
Sometimes called a vibe, mood or feeling, Rithum ebbs and flows from one moment to the next, and is ever changing. We visualise Rithum as a flowing wave integrated into our visuals.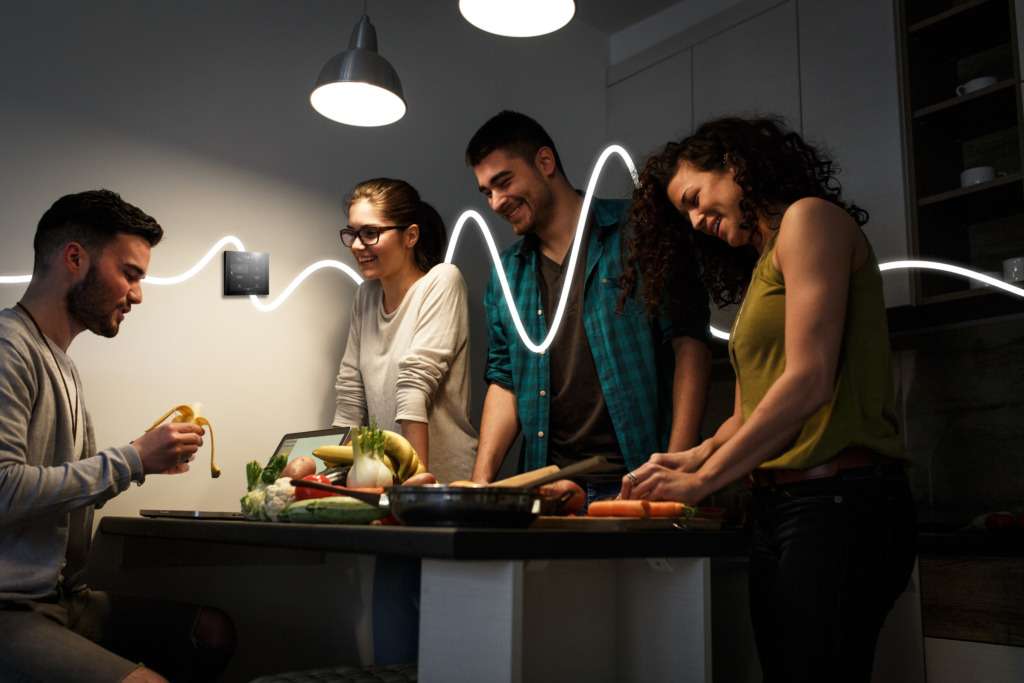 Along with the new brand also comes a new product, for which pre-order will be available shortly. The new product has built in hardware features and additional software functionality out of the box, giving you more control of your smart home. More details on the new product are coming soon and we'll be showcasing it at ISE Europe in Barcelona (stand 2G100 opposite BluOS), so if you plan to be there we'd like to extend you a free entry pass on us. Simply Click Here and use code JR86OKQY during registration.
Lastly, we'd like to say a huge thank you for all your support with our funding round. With combined private investment and Crowdcube crowdfunding, we reached an astonishing £250k, which in part, has helped us to accelerate the new product launch delivering more functionality to our users. Thank you!